Synopsis:
One night at Trieste in September 1943 a seriously wounded soldier is found on the quay. The doctor, of a newly arrived German hospital ship, Pietri Friari gives the unconscious soldier medical assistance. His new patient has no documents or anything that can identifying him. When he regains consciousness he has lost his memory and cannot even remember what language he speaks. From a few things found on the man the doctor, who is originally from Finland, believes him to be a sailor and a fellow countryman, who somehow or other has ended up in Trieste. The doctor dedicates himself to teaching the man Finnish, beginning the reconstruction of the identity of Sampo Karjalainen, leading the missing man to return to Finland in search of his identity and his past.
New Finnish Grammar won three literary prizes in Italy in 2001: Premio Grinzane Cavour, Premio Ostia Mare and Premio Giuseppe Desi and has received critical acclaim across Europe.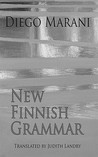 New Finnish Grammar by Diego Marani
This reads more like a man's desperate attempt to make sense of a language, a culture, and a history behind them that is wholly different from his own, than it reads like a novel about an amnesiac man searching for an identity through a new language.
I appreciated the historical accuracy, but can only hope that the mispelled Finnish words are the translator's fault rather than the original author's. As I said in one of my status updates, it's good for linguistic laughs.