Synopsis (from Goodreads):
Adam Larimore is on a mission of self-destruct. After learning that he was genetically
engineered for the sole purpose of inheriting his father's empire, Adam has been determined to ruin his father's life and in the process his own. When Ivan Williams, the man soon to become the Head of the London Security Agency (L.S.A), approaches Adam with the offer of a business partnership, Adam discovers the appalling truth behind the technological and genetic advancements that have come to shape England. His relationship with his father is at breaking point and when events take a devastating turn, Adam finds himself pushed further than perhaps he wanted to go.
My impressions:
I didn't like this one. I didn't like it at all Why? This time let me illustrate my points by quotes straight from the book. And some gifs ;p.
A truly horrible narrative voice with many errors, unnecessary repetitions and misplaced commas.
"Adam sighed as the car pulled up beside him. It was chrome-coloured and was top of the range. It was driven automatically by an inbuilt touch screen computer. A steering wheel remained, which made manual operation possible although most people chose the automatic option. Data was fed directly into it from the central Government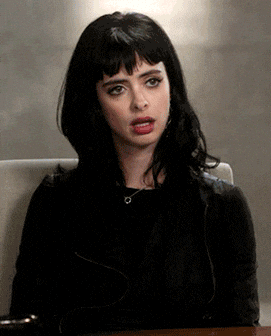 database as were maps of all the cities. The leather seats were set quite far back from the windscreen and there was room for one passenger in the front. The back of the car was used for detainees. The automatic window slid down to reveal Ivan. "I've been looking for you for hours," he told Adam as he opened the passenger door. Adam shrugged."
I shrugged as well. A twelve-year-old can spout better sentences in their first fanfic.
Infodumps everywhere. Large, ugly infodumps which make you bored stiff after several seconds.
"In 2049 a series of Great Tsunamis had devastated much of the world. These tsunamis had formed as a result of massive undersea earthquakes. On that fateful day in August life had changed forever. Chaos and war followed as the remaining countries became desperate and turned on each other. Surviving Government officials in England had formed the London Security Agency – L.S.A – and it was the L.S.A's job to protect London from hostile nations as well as fractious groups within the country. The new Government had been in power since 2049 and had poured all of its resources into technology that it believed could prevent future disasters and move England forward in its recovery. At first technology was salvaged from the ruins and survivors repaired what they could until the water had receded enough to restore a working Government in London."
And so on, and so on, yadda, yadda, yadda. No, it is not the end of one lovely infodump the author is serving you after a cop asks the main lead a quite innocuous question: "Please state your full name and age". It should be put into textbooks which teach you how not to write (practically anything).
The plot as engaging to read as fresh paint is interesting to watch as it dries plus seriously cardboard cut-out  flat characters.
Ok, no quotes there, you must simply trust me. So we've got Adam Victor James Larimore, a super-human nineteen-year old. He is the only son of a very wealthy man, a boy basically designed from scratch. Adam is handsome, rich, healthy and very difficult to destroy or to get drunk. He is also lonely, misunderstood and gay. Hell yeah, meet a super-hacker who, surprise, surprise, cannot get past locks and codes in the mansion of his daddy even if people in this book often call him a computer genius (but he can hack the car of his stepbrother, how cool is that?)
What's his problem? Oh, that's easy.  He lacks LOVE and UNDERSTANDING. He lacks PURPOSE in his heavily cushioned life. He lacks a FATHER FIGURE who would take care of him, trust him and worry when our super-boy is slumming with shadowy types in an illegal club. Unfortunately his daddy only BEATS him (and his left hook is mean) when things go wrong, his step-mom HATES him, his real mom doesn't want to KNOW him, his step-brother doesn't want to borrow him his fantastic car – cue in the cheesiest song of My Chemical Romance. The poor boy is causing one disaster after another to get a tiny little bit of attention from his daddy dearest but no luck. By the way: couldn't they program obedience and following rules into his psychological make-up?
Final verdict:
DNF. End of the sufferings. I pronounce myself disappointed.