Product info (from Goodreads):
Cloud Atlas begins in 1850 with Adam Ewing, an American notary voyaging from the Chatham Isles to his home in California. Along the way, Ewing is befriended by a physician, Dr. Goose, who begins to treat him for a rare species of brain parasite. . . . Abruptly, the action jumps to Belgium in 1931, where Robert Frobisher, a disinherited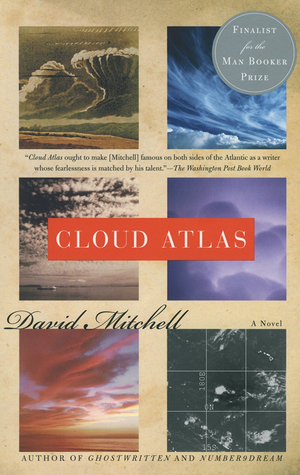 bisexual composer, contrives his way into the household of an infirm maestro who has a beguiling wife and a nubile daughter. . . . From there we jump to the West Coast in the 1970s and a troubled reporter named Luisa Rey, who stumbles upon a web of corporate greed and murder that threatens to claim her life. . . . And onward, with dazzling virtuosity, to an inglorious present-day England; to a Korean superstate of the near future where neocapitalism has run amok; and, finally, to a postapocalyptic Iron Age Hawaii in the last days of history.
But the story doesn't end even there. The narrative then boomerangs back through centuries and space, returning by the same route, in reverse, to its starting point. Along the way, Mitchell reveals how his disparate characters connect, how their fates intertwine, and how their souls drift across time like clouds across the sky.
My impressions:
I admit I had to start this one two times – the beginning could be hardly called riveting. Even being a bit more motivated during my second try I found that going through first 55-60 pages wasn't easy. The novel consisted of six shorter stories, each intertwined with the rest, all told in a different style and using a vocabulary of its own. Sometimes it was difficult to find the connection at first. Sometimes the style of a story was simply irritating. Sometimes I had no idea why I was reading it at all.
I think I liked the narration of Robert Frobisher, a young bisexual musician going to Belgium in order to escape his English family and creditors, the best. The story of Sonmi, a cloned servant artificially bred and modified to work for one of MacDon… ehem, Papa Song eateries came as second best. The Ghastly Ordeal of Timothy Cavendish was at least funny but also rather schematic. Zachry's narrative left me lukewarm bordering annoyed (seriously, apocalyptic Hawaii where everyone has started speaking in difficult and annoying slang?) Adam Ewing's was boring and Luisa Rey's could have been very good but somehow it wasn't. I agree, the way the stories interrupted each other and flowed chronologically to half way and were then completed in the second half of the book in reverse order was a clever trick. Still I expected more than just tricks, I wanted  something profound. Unfortunately the book didn't deliver, not quite.
Near the end I concluded that Mitchell simply wanted to spin an elaborate tale of reincarnation and predestination with no real punch and/or endgame. Pure stylistic fireworks, nothing substantial. Pity.
Final verdict:
A book that started badly and ended badly but had some good moments in-between. Taking all the hype into account I found it vastly overrated. Meh. Now I don't even want to watch the movie.