Product info:
"I seen a kid killed…He strangled it, up by the horse."
When Billy, a troubled young man, comes to private eye Cormoran Strike's office to ask for his help investigating a crime he thinks he witnessed as a child, Strike is left deeply unsettled. While Billy is obviously mentally distressed, and cannot remember many concrete details, there is something sincere about him and his story. But before Strike can question him further, Billy bolts from his office in a panic.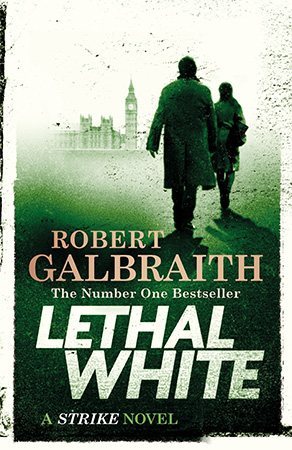 Trying to get to the bottom of Billy's story, Strike and Robin Ellacott—once his assistant, now a partner in the agency—set off on a twisting trail that leads them through the backstreets of London, into a secretive inner sanctum within Parliament, and to a beautiful but sinister manor house deep in the countryside.
My impressions:
Lethal White is the fourth (4th) book in the "Cormoran Strike" series, written by Robert Galbraith (J. K. Rowling). The series primary characters are Cormoran Strike (Strike) a private detective in London and his temporary clerk, turned investigator, turned partner Robin Ellacott, now Mrs Cunliffe. It was one long book. What's more, it was also a slowly-paced one. Once again the whodunnit story arc I found simply boring and not especially believable. I might be wrong but if somebody like Billy, an unbalanced, psychotic youth apparently living on the street, came to my office I'd call social services or police, preferably both, and forgot about the whole issue. Why Strike had to engage himself, even though he had plenty of other well-paid investigations to follow, is beyond me.
The slow-burning romance between Cormoran and Robin had to carry the whole novel for me and it managed to do exactly that – but with visible effort. I had an impression the characters were stuck in the same routine for the fourth book; even if you enjoy that routine how many times are you able to read the same of the sameness… And those political comments thrown here and there. Do you have to spoil your book with politics? Apparently J.K. Rowling's answer is a firm 'yes'. 
Finally let me pour some acid on the title and quotes from one of Henrik Ibsen plays (Rosmersholm), starting every chapter. They didn't make sense. I never managed to find a connection between the murder of a politician and  an autosomal genetic disorder most prevalent in American Paint Horse even though it was illustrated by a painting done, allegedly, by Stubbs, and fitting those Ibsen quotes with the content of chapters was more often than not pure guesswork.
Final verdict:
I'm not sure I will be willing to read the next part of this series just for Corm-Robin pairing.